Mastering Mind Map Design: A Step-by-Step Guide
Disclosure: Some of the links on this page may contain affiliate links.
Unlock the potential of your creative mind with our comprehensive guide to mastering mind map design. Whether you're a student, professional, or simply someone looking to enhance their brainstorming skills, this step-by-step guide will equip you with the knowledge and techniques to create visually stunning and highly effective mind maps. Mind maps are powerful tools that help you organize your thoughts, connect ideas, and stimulate innovative thinking.
We will take you through the fundamentals of mind map design, from selecting the right software to choosing the perfect colour scheme. We'll also explore advanced techniques such as incorporating images and utilizing different types of branches. With our tips and tricks, you'll be able to create mind maps that not only captivate your audience but also enhance your own understanding and creativity. Join us on this exciting journey and unlock the full potential of your mind map designs.
Understanding the Benefits of Mind Maps
Mind maps are not just visually appealing; they also offer numerous benefits that can greatly enhance your thought process and productivity. One of the key advantages of using mind maps is their ability to help you generate and organize ideas. By visually representing your thoughts and connections between them, you can create a clear overview of complex information. This makes it easier to spot patterns, identify relationships, and make sense of intricate concepts. Additionally, mind maps stimulate both the logical and creative sides of your brain, leading to more innovative and holistic thinking.
Another advantage of mind maps is their versatility. They can be used for a wide range of tasks, such as brainstorming, note-taking, project planning, and problem-solving. Whether you're preparing for an exam, organizing your thoughts for a presentation, or mapping out a business strategy, mind maps provide a flexible and efficient solution. Furthermore, mind maps are highly engaging and memorable, making it easier for you to retain information and communicate your ideas to others.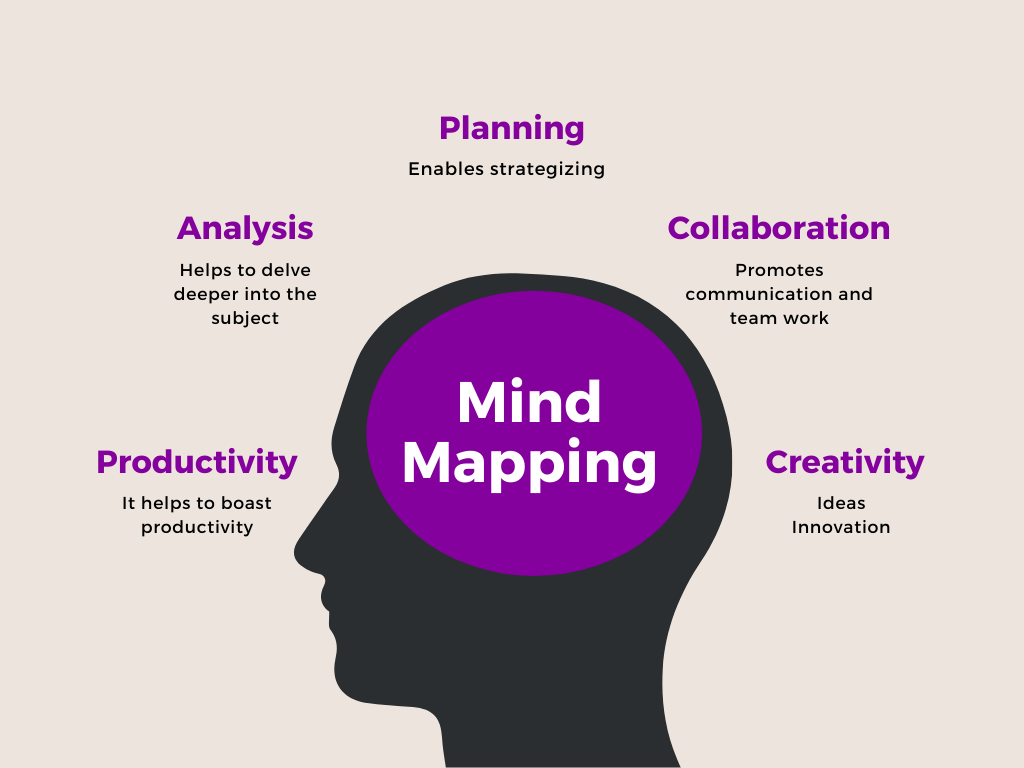 In summary, mind maps offer several significant benefits, including enhanced idea generation and organization, stimulation of both logical and creative thinking, versatility for various tasks, and improved information retention and communication.
How to Create a Mind Map
Creating a mind map is a simple and intuitive process that can be broken down into several key steps. To begin, start by identifying your central idea or main topic. This will serve as the focal point of your mind map. Once you have your central idea, write it down in the center of a blank page or digital canvas.
Next, brainstorm related ideas and concepts that branch out from the central idea. These branches can represent different categories, subtopics, or supporting ideas. Write each idea on a separate branch, radiating out from the central idea. Use keywords or short phrases to keep the mind map concise and easy to understand.
As you add branches, continue to expand and explore each subtopic or category. Connect related ideas using lines or arrows, creating a visual representation of the connections between different concepts. This will help you see the relationships and associations between ideas, facilitating a deeper understanding of the topic.
Remember to keep your mind map organized and structured. Use different colors or symbols to distinguish between main ideas, subtopics, and supporting details. This will make it easier to navigate and comprehend the mind map. Additionally, consider using different shapes or icons to represent specific types of information, such as facts, questions, or examples.
Finally, review and refine your mind map. Check for any missing connections or ideas that need further elaboration. Make adjustments as necessary to ensure the mind map accurately reflects your thoughts and ideas. Don't be afraid to experiment and iterate on your mind map design until it feels complete and visually appealing.
Creating a mind map is a dynamic and iterative process, so don't worry about getting it perfect on the first try. Allow your ideas to evolve and adapt as you continue to refine your mind map.
Choosing the Right Format for Your Mind Map
When it comes to choosing the format for your mind map, you have several options, ranging from traditional pen and paper to digital mind mapping software. Each format has its advantages and considerations, so it's important to select the one that best suits your needs and preferences.
Pen and paper mind maps offer a tangible and tactile experience that can be particularly beneficial for some individuals. Writing and drawing on paper can stimulate creativity and provide a sense of freedom and flexibility. Additionally, pen and paper mind maps can be easily carried around and accessed without the need for any technology or software.
However, digital mind mapping software provides numerous advantages that make it a popular choice for many. With digital tools, you can easily edit, rearrange, and share your mind maps. This flexibility allows for seamless collaboration with others and makes it easier to update and modify your mind maps as your ideas evolve. Furthermore, digital mind maps can be easily stored and accessed across multiple devices, ensuring you always have your mind maps at your fingertips.
When choosing the right format, consider factors such as your personal preferences, the level of collaboration required, the need for portability, and the complexity of your mind maps. Ultimately, the format you choose should align with your goals and make the mind mapping process as smooth and enjoyable as possible.
Tips for Organizing and Structuring Your Mind Map
Organizing and structuring your mind map effectively is crucial to ensure clarity and ease of understanding. Here are some tips to help you create a well-organized and structured mind map:
1. Start with a clear and concise central idea: Your mind map should revolve around a central idea that encapsulates the main topic or theme. This central idea will act as the anchor for all other branches and ideas.
2. Use hierarchy and levels of importance: Organize your branches and subtopics in a hierarchical manner, with the most important or overarching ideas at the top and more specific details branching out below. This hierarchy will help create a logical flow and structure within your mind map.
3. Group related ideas or concepts: Identify commonalities and relationships between different ideas and group them together. This will make it easier to see connections and patterns, enhancing the overall coherence of your mind map.
4. Use consistent formatting: Apply consistent formatting throughout your mind map to create visual consistency and clarity. Use the same colors, shapes, and icons for similar types of information. This will make it easier for viewers to understand and navigate your mind map.
5. Keep it simple and concise: Avoid overcrowding your mind map with excessive information or too many branches. Keep your ideas concise and use keywords or short phrases instead of lengthy sentences. This will make your mind map more visually appealing and easier to digest.
By following these tips, you can create well-organized and structured mind maps that effectively communicate your ideas and concepts.
Adding Visuals and Colors to Enhance Your Mind Map
Visual elements and colors play a crucial role in enhancing the effectiveness and visual appeal of your mind map. By incorporating visuals and colors, you can stimulate different parts of your brain and make your mind map more engaging and memorable. Here are some techniques to consider:
1. Use images or icons: Instead of relying solely on text, consider adding relevant images or icons to represent ideas or concepts. Visuals can help trigger associations and enhance understanding.
2. Utilize different colors: Assign different colors to branches, subtopics, or categories to create visual differentiation. This will help viewers quickly identify different elements within your mind map and understand their relationships.
3. Apply color psychology: Consider the emotional impact of colors when choosing your color scheme. For example, warm colors like red and orange can evoke energy and excitement, while cool colors like blue and green can promote calmness and harmony.
4. Keep it balanced: Use colors and visuals in moderation to avoid overwhelming your mind map. Aim for a balanced and harmonious composition that supports the overall clarity and readability of your mind map.
Remember, visuals and colors should complement and enhance the content of your mind map, not distract from it. Use them strategically to create a visually appealing and impactful mind map.
Using Mind Mapping Software and Tools
Mind mapping software and tools have revolutionized the way we create and interact with mind maps. These digital tools offer a wide range of features and functionalities that can streamline the mind mapping process and enhance collaboration. Here are some popular mind mapping software and tools worth exploring:
1. MindMeister: This web-based mind mapping tool allows for real-time collaboration, integration with other productivity apps, and a user-friendly interface. It offers a range of templates and customization options to suit different needs.
2. XMind: With its intuitive interface and comprehensive set of features, XMind is a popular choice for both beginners and advanced users. It offers various layouts, styles, and export options, making it versatile for different purposes.
3. Coggle: Known for its simplicity and ease of use, Coggle allows for seamless collaboration and sharing of mind maps. It offers a clean and clutter-free interface, making it ideal for users who prefer a minimalist design.
4. iMindMap: Developed by Tony Buzan, the inventor of mind mapping, iMindMap offers a range of advanced features and customization options. It provides a highly visual and interactive experience, allowing for easy navigation and exploration of mind maps.
When selecting mind mapping software or tools, consider factors such as user-friendliness, collaboration capabilities, customization options, and compatibility with your devices and operating systems. Many tools offer free trials or basic versions, so you can experiment and find the one that best suits your needs.
Advanced Techniques for Mastering Mind Map Design
Once you have mastered the basics of mind map design, you can explore more advanced techniques to take your mind maps to the next level. Here are some techniques that can elevate your mind map design:
1. Incorporate mind map templates: Many mind mapping software and tools offer pre-designed templates that can save you time and effort. These templates often follow established frameworks, such as the SWOT analysis or the Five Ws (Who, What, When, Where, Why), allowing you to quickly structure your mind maps.
2. Utilize different types of branches: Experiment with different types of branches to represent different relationships or hierarchies. For example, you can use thicker branches for main ideas and thinner branches for supporting details. This visual distinction adds depth and clarity to your mind map.
3. Include callouts or annotations: Callouts or annotations are additional pieces of text that provide more context or detail to specific branches or ideas. They can be used to explain complex concepts, provide examples, or offer additional information.
4. Integrate multimedia elements: In addition to images, consider incorporating other multimedia elements into your mind map, such as videos, audio clips, or hyperlinks. These elements can provide further context or serve as additional resources for viewers.
5. Experiment with different layouts and structures: Break away from the traditional radial or hierarchical layout and explore alternative structures. For example, you can create a fishbone mind map to analyze cause and effect relationships or use a flowchart layout for step-by-step processes.
By incorporating these advanced techniques, you can create mind maps that are more visually appealing, informative, and engaging.
Examples of Effective Mind Map Design
To inspire and guide your mind map design journey, here are some examples of effective mind maps:
1. Academic Mind Map: This mind map is designed to help students organize their research for a term paper. It includes branches for different sources, key arguments, and supporting evidence. The use of colors and icons makes it easy to identify different types of sources and arguments.
2. Project Planning Mind Map: This mind map is used to plan a marketing campaign. It includes branches for target audience, messaging, channels, and key deliverables. The visual layout and use of images help convey the overall campaign concept and make it easier to understand the different components.
3. Personal Development Mind Map: This mind map focuses on personal growth and goal setting. It includes branches for different areas of life, such as career, health, relationships, and hobbies. The use of callouts provides additional context and actionable steps for each area.
By examining these examples, you can gain insights into effective mind map design principles and adapt them to your own projects.
Conclusion and Next Steps
Congratulations! You have now embarked on a journey to master mind map design. By understanding the benefits, learning the fundamentals, and applying advanced techniques, you can create mind maps that not only captivate your audience but also enhance your own understanding and creativity.
Remember to start with a clear central idea, use hierarchy and structure to organize your mind map, and incorporate visuals and colors strategically. Experiment with different formats and tools to find the one that best suits your needs. And don't forget to explore advanced techniques and learn from effective mind map examples.
Now it's time to put your newfound knowledge into practice. Start by creating a mind map for your next project, presentation, or personal goal. As you continue to refine your mind map design skills, you'll unlock the full potential of your creativity and innovative thinking.
So what are you waiting for? Grab your pen and paper or fire up your mind mapping software, and let your mind soar with the endless possibilities of mind map design. Happy mind mapping!