13 Best Time Management Apps To Help You Work Smarter
Disclosure: Some of the links on this page may contain affiliate links.
If you're looking for ways to boost your productivity, these 13 time-management apps can help. They'll make it easier for you to focus on the important things in life and get more done each day.
ClickUp is a time management app that helps you stay on track and organized. It's also an excellent tool for managing your to-do list, staying focused on your tasks and staying motivated throughout the day.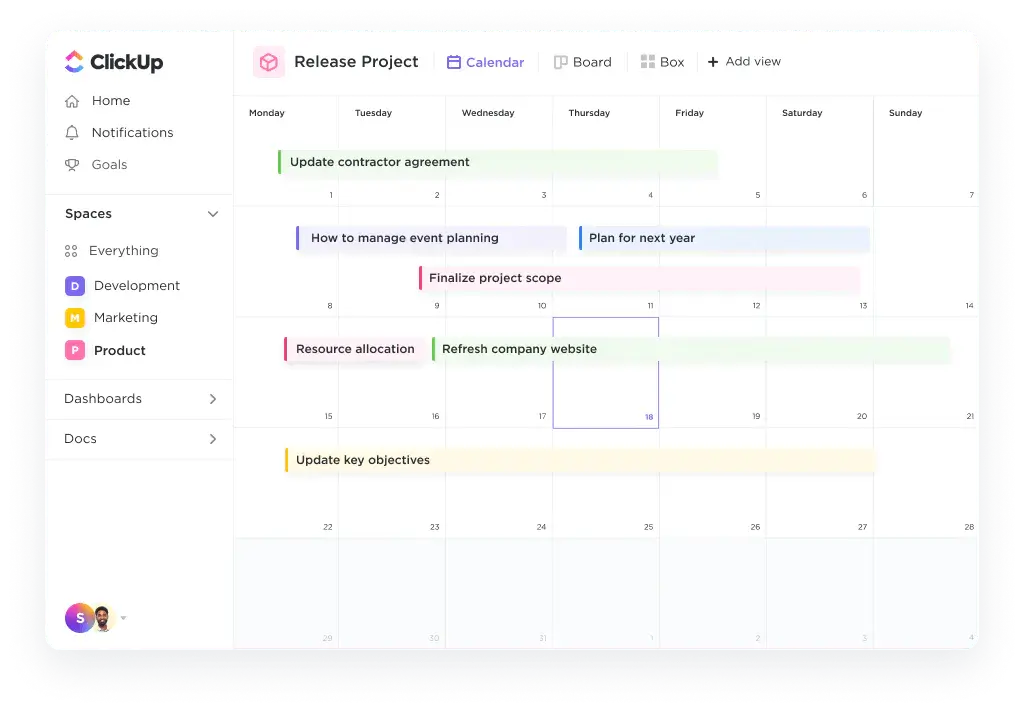 With ClickUp, you can create different tasks like "Get groceries" or "Write shopping list," then set reminders for these tasks so that they'll be completed at specific times in the future. You can add comments within each task itself if there are any notes or questions about it later; this way, everyone involved will know what needs doing next.
Platforms: Web, MacOS, Windows, iOS, Android
Plans
Free Forever: Add unlimited tasks and members, get 100MB of storage, and more.
Unlimited ($5 per member, per month): Unlimited storage, unlimited integrations, unlimited Dashboards, Agile reporting, and more.
Business ($12 per member, per month): Google SSO, unlimited teams, custom exporting, advanced public sharing, advanced automations, and more.
Business Plus ($19 per member, per month): Subtasks in multiple Lists, custom role creation, custom permissions, increased automations and API, and more.
Todoist is a time management app that helps you stay on top of your tasks. It has two versions, a free version and a paid version. In addition to the standard features like reminders and task lists, Todoist also includes an integrated task manager so that you can see all your projects at once in one place.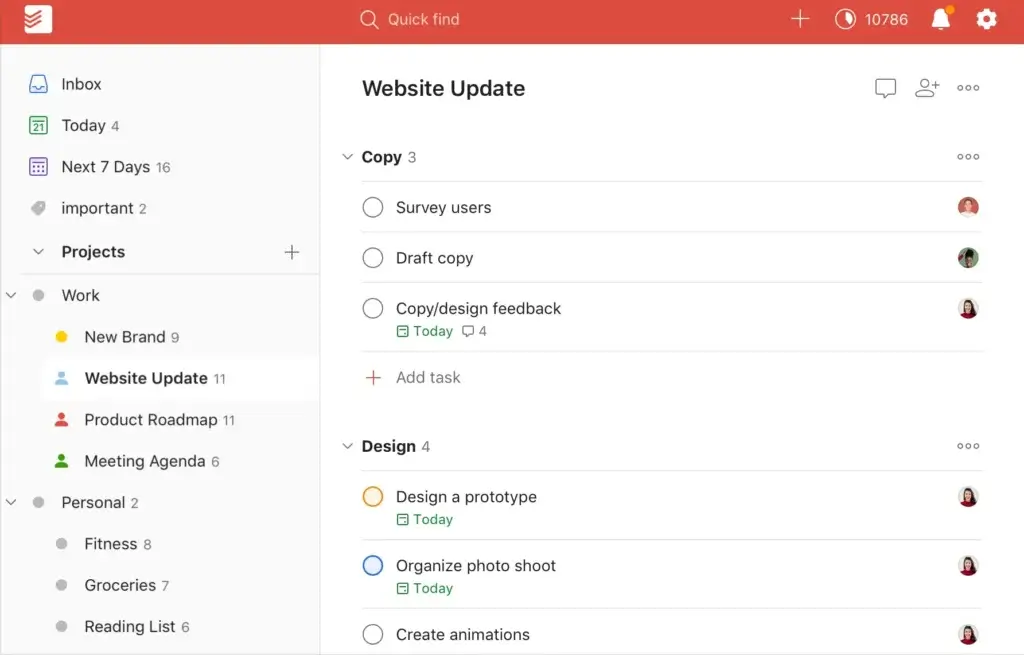 The app offers several different ways to add tasks: through its web interface or via email; there's even an option for creating new tasks within other apps such as Gmail or Dropbox. The truly cool part about this feature is how it lets you create recurring events (like "weekly meeting"), which are then added directly into Todoist itself no more trying to remember what happened last week.
If you need some extra help staying organized with your day-to-day work obligations but don't want something too complicated or expensive just yet.
Platforms: Web, iOS, Android
Plans
Free for starters
Pro Plan: $3 per member, per month
Business Team Plan: $5 per member, per month
RescueTime is a time tracking software that helps you see which apps are eating up your time and what's distracting you. It also gives you the option to block websites, apps, or even entire sites like Facebook.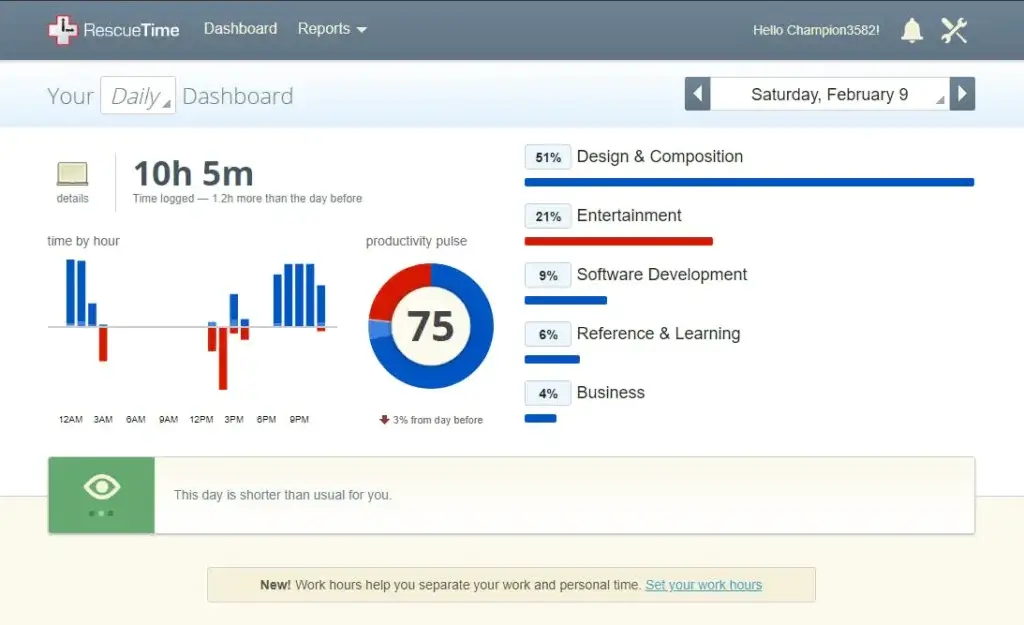 The software works by monitoring the applications running on your computer or smartphone and then creating reports based on these readings. The free version allows users to track up to five applications at once; however, this limit can be increased with an upgrade (which costs $5 per month).
Platforms: iOS, Mac, Windows, Android, Chrome Extension
Plans
14-day free version
12-month price at $6.50 per month or 1-month price at $12.00 per month
4. Toggl Plan
Toggl Plan is a time management app that helps you manage your tasks and projects. The app is free to use, but there are premium plans available. Toggl Plan is available for both Android and iOS devices; it has over 10 million downloads on iOS alone.
Platforms: Web, iOS, Android
Plans
Free for 14 days
Team Plan: $8 per member, per month
Business Plan: $13.35 per member, per month
5. Google Calendar
Google Calendar is a powerful tool for managing your schedule. It can be used to keep track of the appointments and events that you have on your calendar, as well as tasks and plans for the upcoming week. This app makes it easy to see how much time has been set aside for certain tasks, so you know if they're getting done or not.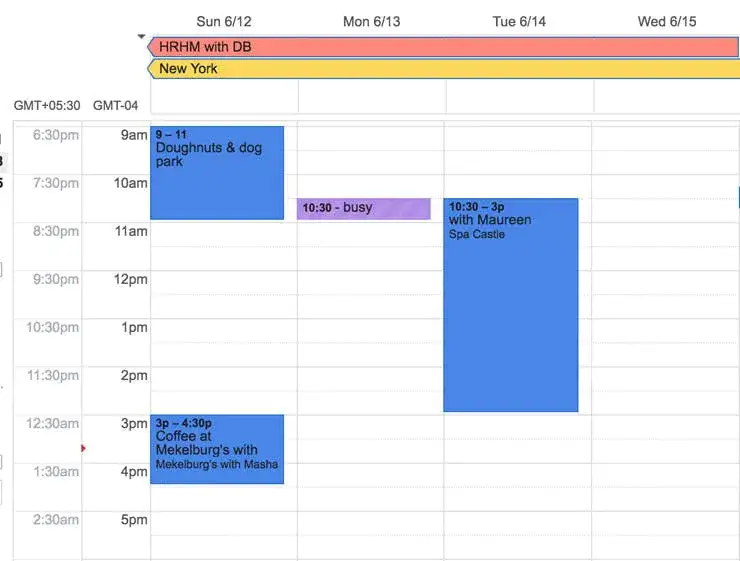 It also helps with productivity by providing a visual representation of how much time you're spending on different things throughout the day, whether that means focusing on work or taking care of other responsibilities like shopping or cooking dinner (or cleaning up after dinner).
Platforms: Online, iOS, Android
Plans
Free
Pro: $6 per month
Enterprise: Tailored to your business needs
This app is designed to help you stay focused and get things done. You can use it to track your time in two ways:
The timer tracks how long you spend on each activity, and this information will be added to your overall daily goal.
The tracker also monitors how much time is spent on specific websites or apps (such as Facebook). This data can be used for comparison purposes later down the road, so if one website takes up too much of your day compared with others or vice versa, you'll know where those differences lie and adjust accordingly.
Platforms: Mac App Store
Plans
Free
Pro Version is $4.99
Freedom is a time management app that helps you stay productive by helping you manage your time. The app uses a "focus" feature to keep users on track, so they can focus on the things that matter most.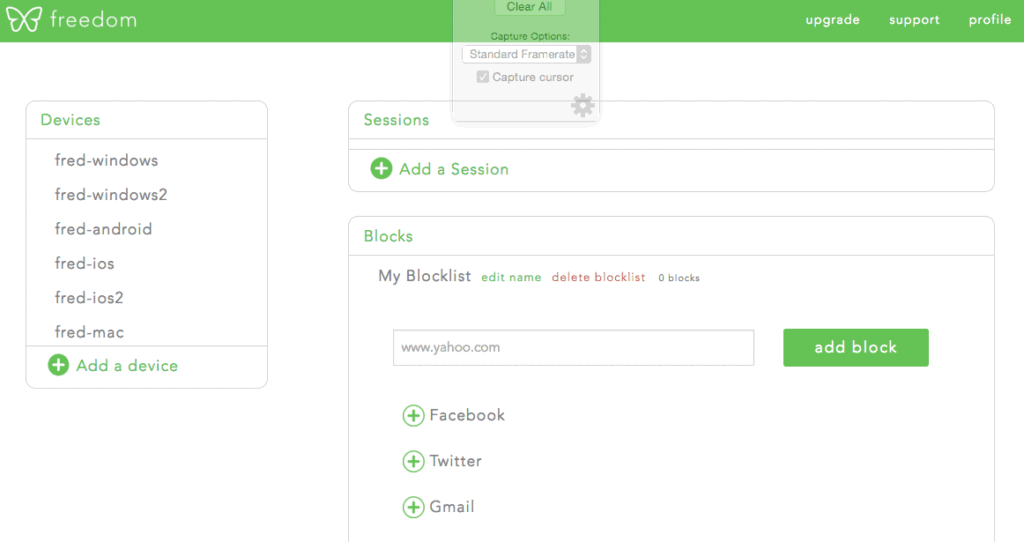 Freedom helps users stay focused and productive by focusing on only the important tasks in their life. The app lets users set priorities for each day, then tracks how long they spend on each task until they complete it (or get distracted). It also lets people take breaks from work through meditation or exercise, which helps them feel less stressed out during busy times of the day.
Platforms: Mac, Windows, Android, iOS, Chrome Extension
Plans
Monthly: $6.99 per month
Yearly: $2.42 per month
Forever: $129
8. Remember The Milk
Remember The Milk is a to-do list, calendar and reminder app. You can use it to track your tasks, appointments and reminders and organize them into different groups.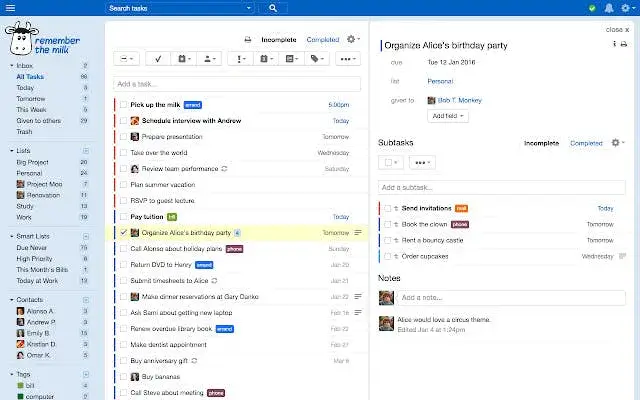 There are two versions of Remember The Milk: the free version which offers basic functionality for up to five users at no charge; or Premium ($5 per month), which gives you unlimited access with more advanced features like subtasks, custom fields and shared lists between team members in an organization.
Platforms: iOS, Android, Web, BlackBerry
Plans
Free
Pro: $39.99 per year
9. ZenDay
ZenDay is a time management app that helps you get more done in less time. It helps you to focus on the most important things in your life and achieve your goals with less effort. The app gives you visual cues, so you can see what's happening around you at all times, as well as easy access to reminders and notifications so that even if someone calls while they're using it, they'll still be notified of when it's their turn.
ZenDay also provides a lot of different functionality within its application, including:
A task manager that can be used for both work or personal tasks (with separate lists).
A timer which allows users to set reminders for themselves when they need something done by specific times later on down the line.
A detailed calendar where users can add events from different sources such as Google Calendar or Outlook Calendar so that everything is organized clearly within one central location.
Platforms: Android
Plans
In-app products range from $2.90 – $19.00 per item.
10. Habitica
Habitica is a time management tool that helps you track your daily habits and achieve your goals. It's also free, which makes it an appealing option to try out if you're not sure how much time you want to spend keeping track of all the important things in your life.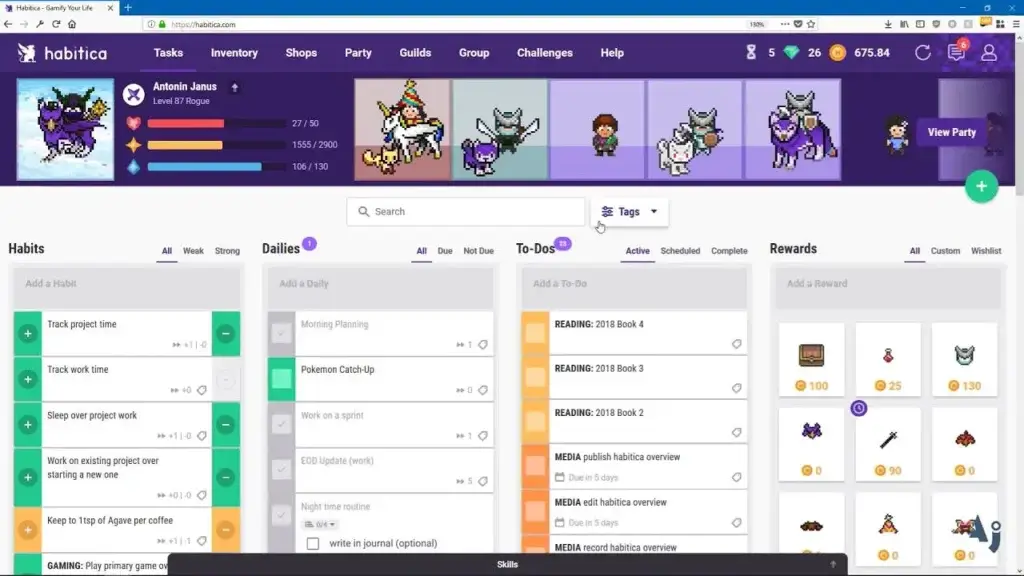 Habitica works by letting users create their own lists and tasks, then assigning points from 100-1000 to each item on their list the more tasks or items you have going at once, the higher the point value will be for each one. You can then assign days off from work or other commitments so that they don't negatively impact progress toward completing certain goals (like writing blog posts).
Platforms: Online, iOS, Android
Plans
Focusmate is a time management app that helps you stay focused on the things that matter most. Designed for people who want to be more productive and organized, Focusmate offers a range of features including:
A calendar view to help you plan your tasks in advance
A task list that lets you organize your tasks into different categories (such as personal, work or home)
The ability to block certain times of day so they do not appear in your calendar (e.g., meetings don't show up on your standard agenda)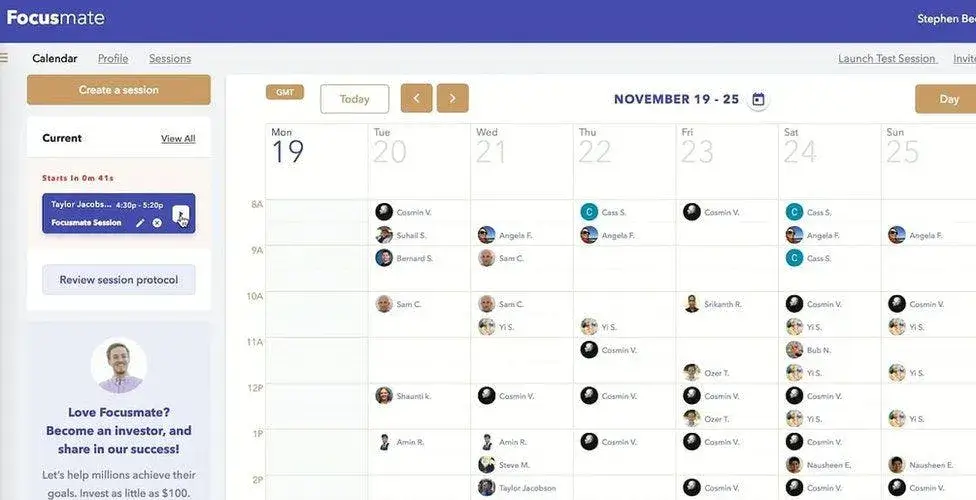 Platforms: Web-based, Chrome for Android, and Safari for iOS
Plans
Free for 3 sessions (50 minutes each) every week
For unlimited sessions, upgrade to Turbo for $5 per month
Noisili is a time management app that helps you focus on the task at hand. It allows you to block distracting websites and apps for a period of time, which will help you stay focused on what's important.
Platforms: iOS, Google Play, Desktop
Plans
Free
$10 per month
$24 per month (for business teams)
13. Mindful Browsing
Mindful Browsing helps users from mindless browsing. Mindful Browsing seamlessly interrupts random mindless browsing to help you get back to work and stay focused. Mindful Browsing is perfect for everyone who finds themselves aimlessly browsing websites and wasting time.
Platforms: Chrome Extension
Plans
Conclusion
So, there you have it. These apps are a great way to organize your time and make sure you're working smarter, not harder. If you're looking for more ideas on how to improve your productivity, check out our list of the best daily planner apps available today.