The Best Goal Setting Software for 2024 (Simple to Use!)
Disclosure: Some of the links on this page may contain affiliate links.
Setting goals is a complex process, and it's important to do it right. It's not just about listing off all the things you want to achieve; you also need to know how long each goal will take and what obstacles might get in your way. That's where goal setting software comes in. If you're looking for an easy way to plan out your goals ahead of time, then check out these top picks:
ClickUp is the best goal setting software for 2024. It's simple, flexible and easy to use. It's available on all devices, including desktop computers, laptops and tablets. You can also use ClickUp with your phone by downloading the app from Google Play or Apple App Store.
ClickUp has a free version that gives you access to all features but not unlimited data storage space, so you have to pay extra if necessary. The paid version offers more flexibility in terms of customization options as well as advanced search capabilities such as comparing your goals against other people's goals based on their age group, etc., which makes it ideal for those who want their work environment organized according to certain parameters.
Platforms: Web, MacOS, Windows, iOS, Android
Plans
Free Forever: Add unlimited tasks and members, get 100MB of storage, and more.
Unlimited ($5 per member, per month): Unlimited storage, unlimited integrations, unlimited Dashboards, Agile reporting, and more.
Business ($12 per member, per month): Google SSO, unlimited teams, custom exporting, advanced public sharing, advanced automations, and more.
Business Plus ($19 per member, per month): Subtasks in multiple Lists, custom role creation, custom permissions, increased automations and API, and more.
2. Lifetick
Lifetick is a goal-setting app that helps you set and track your goals. It's available on the web, iOS and Android devices.
Create a team: You can make teams with other users in order to collaborate on goals together or even share their progress over time.
Track progress: With Lifetick, you'll know exactly how much work has been done towards achieving each goal so far (and what's left). This can be helpful if you're trying to reach a particular milestone before it expires.
Platforms: Web
Plans
Individual Free: $0
Individual Paid: $16 per quarter or $52 per year
Teams: $20 per month
3. Goalscape
Goalscape is a goal setting app that allows you to set your own goals and track them. The app comes with a built-in calendar, so it's easy to see when you have time in your schedule or not.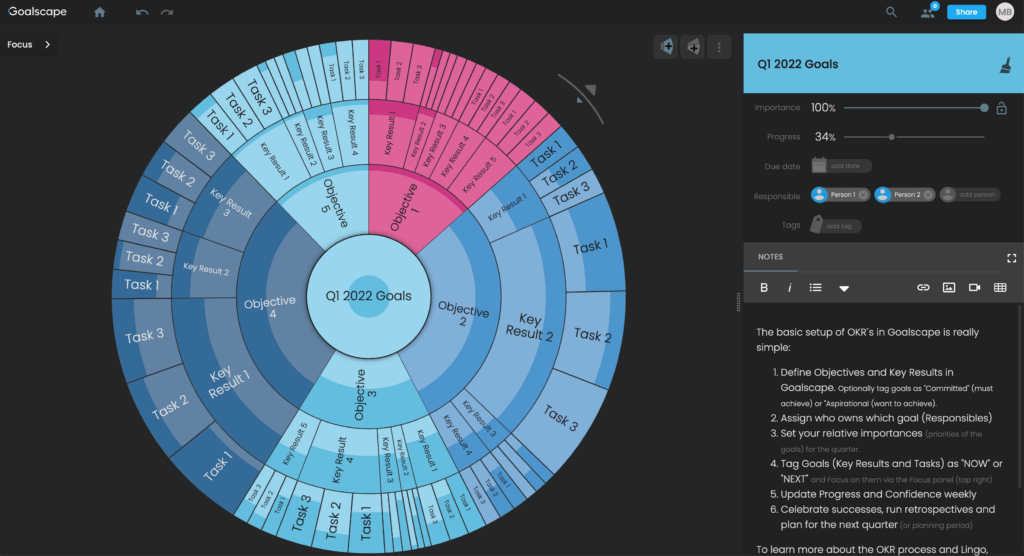 The interface of Goalscape is clean and simple, which makes it easy to use even by non-techies. You can add tasks as well as check off completed ones right from the start screen so there's no need for extra steps during the process of setting goals for yourself.
Platforms: iOS, MacOS, Windows, Android, Web
Plans
Online Free: $0
Online Unlimited: $6 per month recurring
Desktop: $60 non recurring
Enterprise: starts at $1600
4. Perdoo
Perdoo is a goal setting app that helps you set and track your goals. It's available for free on iPhone, Android, and the web.
Perdoo is great if you want to set goals but don't want to pay for it.
Platforms: Web
Plans
Free
Premium: $7.20 per user, per month
5. Ally
Ally is a simple to use goal setting app that integrates with your other apps, like Google Calendar. It's free to try out for 30 days and can be used on both desktop or mobile devices. The interface is clean and easy-to-navigate, making it ideal for beginners who are just getting started with this type of software.
Users will find themselves able to set goals based on what they want from life in general (e.g., "I want more money"), as well as specific areas where they'd like improvement (e.g., "I need a new job"). The program then helps you track your progress toward achieving those goals over time using a dashboard format that shows how close you are from completing each step along the way.
Platforms: Web
Plans
Growth: $7 per user per month
Enterprise: Custom quote
Engagedly is a simple-to-use goal setting app that integrates with multiple apps. It works well for managing multiple projects and can sync with Google Calendar, Dropbox, Box and Slack. Engagedly also has an option to use it on desktop or mobile devices so you don't have to worry about where you'll be working from when it comes time to set goals.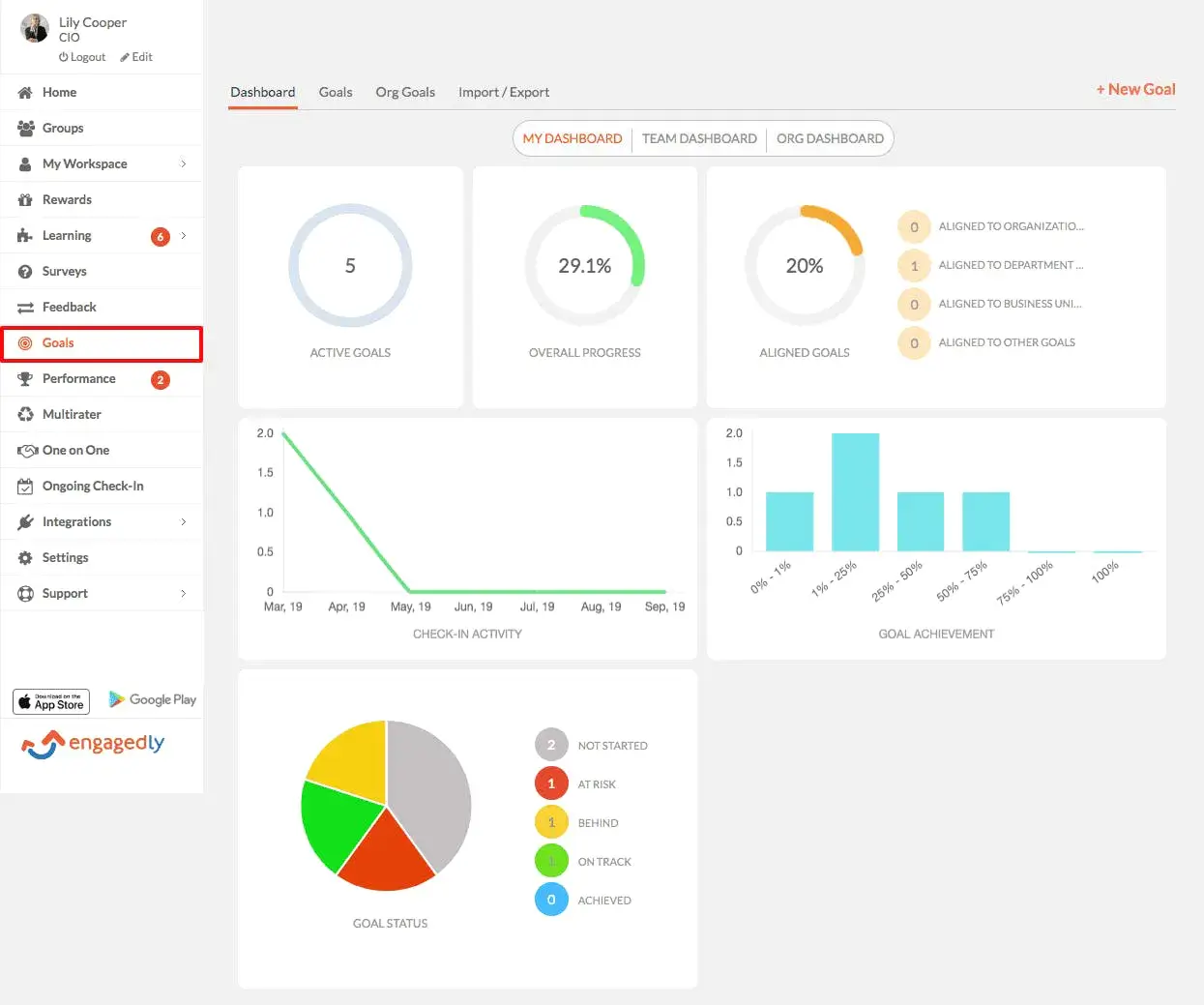 Platforms: iOS, MacOS, Windows, Android, Web
Plans
7. Weekdone
Weekdone is a productivity tool that helps you organize your work and life. It makes it easy to plan, track and manage your goals.
Weekdone's simplicity makes it ideal for anyone who wants to set goals but doesn't have the time or experience needed to create their own system. The app includes a simple interface with two key features: setting up weekly tasks and tracking progress over time. You can also use Weekdone as a journal or diary if that works better for you.
Platforms: Web
Plans
It varies depending on number of users (0-500+)
Free Up to 3 people
$350 a month billed annually up to 50 people
$600 a month billed annually up to 100 people
$1,750 a month billed annually up to 500 people
8. Koan
Koan is a cloud-based app that helps you manage your goals, focus on what matters and get things done. It's simple and effective goal management tool available for iOS, Android and the web.
Koan's unique approach to goal setting means that it can be used by individuals or teams. It doesn't matter if you're looking for help with personal goals or team ones.
Platforms: Web
Plans
Free
Pro: $6 per user, per month + $7.50 per month
Enterprise: $10 per user, per month, (50 users minimum)
9. Trakstar
Trakstar is a simple, free to use goal setting software that allows you to track your goals and objectives. It has an easy-to-use interface, which makes it ideal for beginners.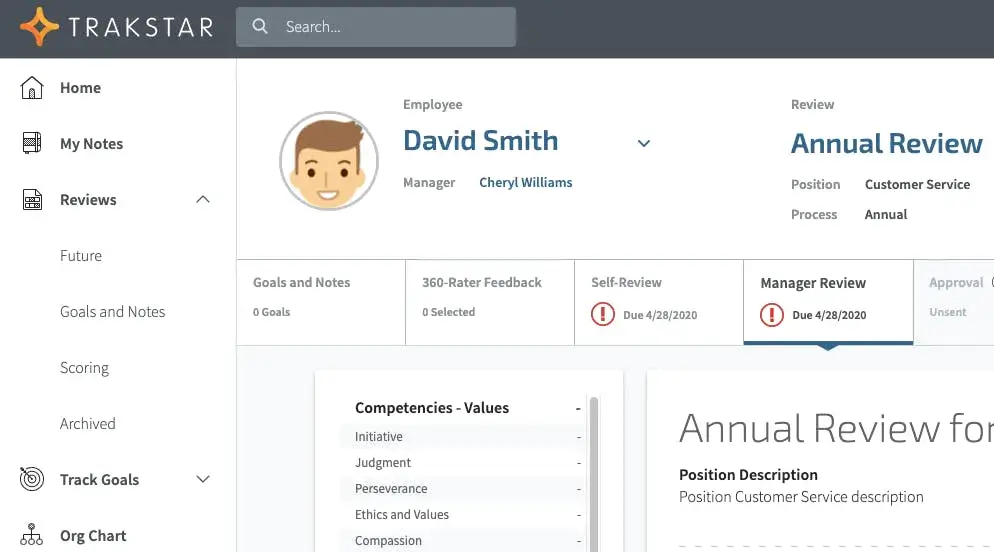 The program also allows you to set up email notifications when milestones are achieved or missed; this helps keep everyone in the loop about progress on each goal.
You can visualize progress through graphs and charts and share them with others via social media channels.
Platforms: iOS, MacOS, Windows, Android, Web
Plans
Hire: $3499 minimum per year
Perform: $4999 minimum per year
Learn: $4499 minimum per year
Goals on Track is a goal setting tool that helps you set and track your goals. It can be used by small businesses and teams, including freelancers or consultants who don't have an unlimited budget.
Goals on Track has a free trial, but it's also available for purchase at $12 per month or $120 per year (a discount from the standard price).
Platforms: iOS, MacOS, Android, Web
Plans
15Five is a goal-setting, feedback and engagement platform that helps teams be more productive and happy. It's an easy way to give and receive feedback on your team goals.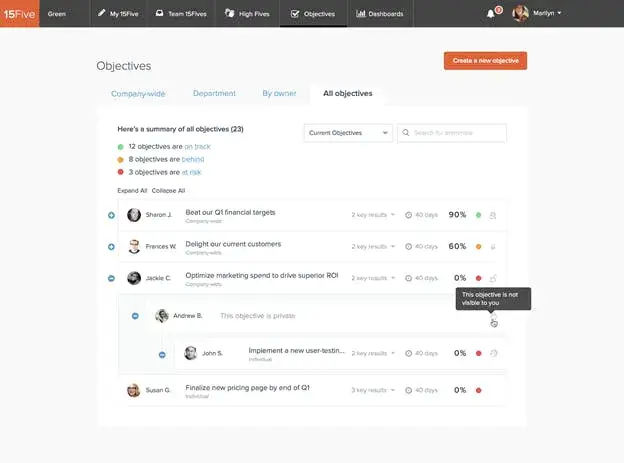 It's simple to set goals with your team using the 15Five app or web app. You can choose from pre-built templates or create your own custom goal list based on what matters most to you as an employee or manager. Once you've created a list of goals in 15Five, every member of your team has access at all times, so they're always working toward their shared objectives together.
Platforms: iOS, MacOS, Windows, Android, Web
Plans
Basic: $7 per user, per month
Plus: $14 per user, per month
Performance: Custom quote
Fellow.app is a free goal tracking app that makes it easy to set goals and track progress, while also providing tools for staying motivated.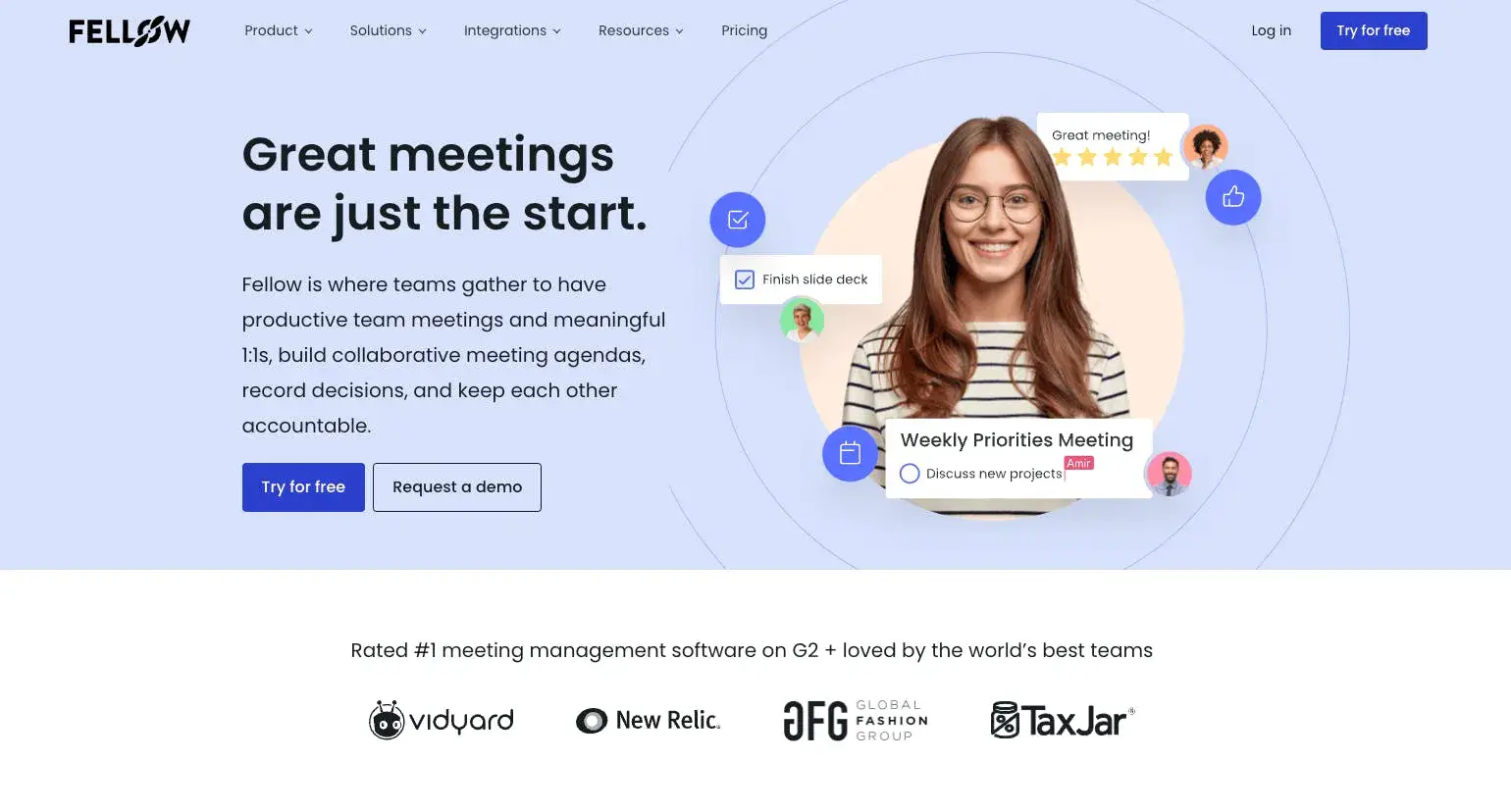 As the name suggests, this app lets you share your goals with others in real time through email or Facebook Messenger. You can also create private groups if you want to keep things private (and even invite friends).
Platforms: Web App, Chrome Extension
Plans
Fellow is free for a maximum of 10 users.
The Pro plan is $5 per user, per month, and custom-priced plans are also available.
Conclusion
Goal-setting software is one of the best tools to help you achieve whatever goals you have in mind. It's simple, easy to use, and will help you stay focused on your goals as well as boost your confidence by making sure that all your hard work pays off.