10+ Best Free & Paid Online Calendars & Appointment Schedulers for 2023
Disclosure: Some of the links on this page may contain affiliate links.
Calendars and appointment schedulers are the best way to manage your schedule. They can help you stay organized, save time, and avoid stress. We've compiled a list of some of the best free and paid online calendars for 2023:
ClickUp is a free online calendar app that's perfect for managing your appointments, tasks and events. It has a mobile app for iPhone, iPad and Android as well as a desktop app for Windows and Mac.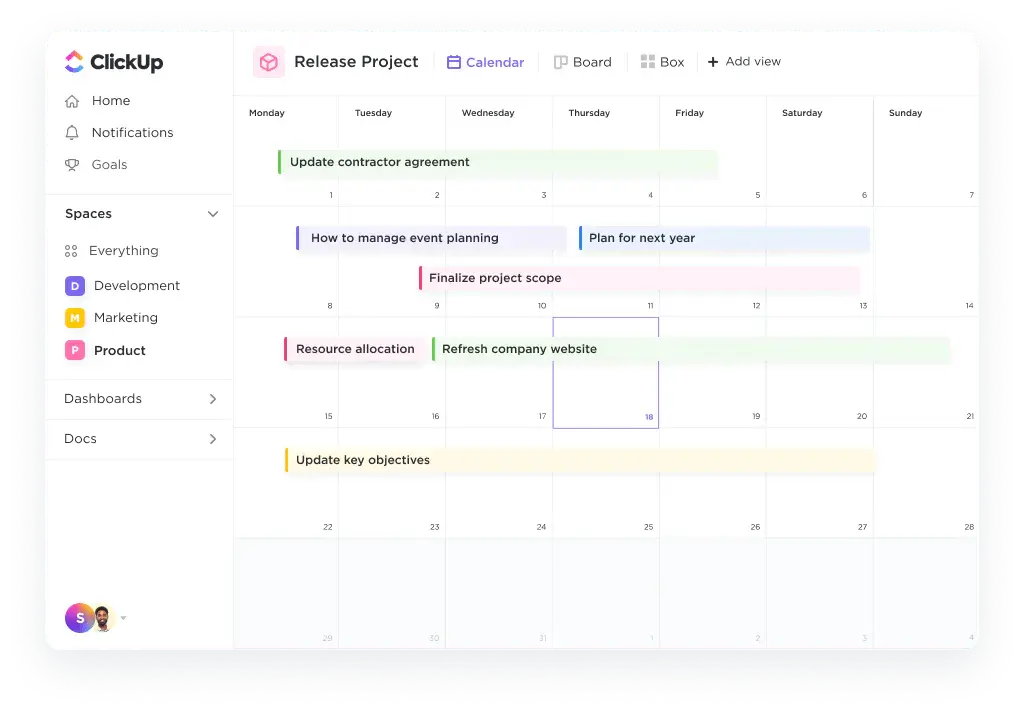 ClickUp makes it easy to create meetings with colleagues or clients by letting you add them quickly from Gmail or Outlook through the web interface. You can also use its drag-and-drop functionality to move your items between days easily without having to type in all of their details again.
Platforms: Web, MacOS, Windows, iOS, Android
Plans
Free Forever: Calendar view, tons of scheduling features and views, unlimited tasks and members, 100MB of storage, and more.
Unlimited ($5 per member, per month): Unlimited storage, unlimited integrations, and unlimited Dashboards.
Business ($12 per member, per month): Unlimited teams, custom exporting, and advanced public sharing.
Business Plus ($19 per member, per month): Custom role creation, custom permissions, and increased automations and API.
Enterprise (contact sales for pricing): Enterprise API, guided onboarding, and a dedicated success manager.
2. Google Calendar
Google Calendar is a great calendar app that's free to use. You can download it on iOS and Android, but you have to sign up for a free account before you can begin using it.
Google Calendar offers many features including easy-to-use reminders, automatic updates in the background when you're offline (this is great if your phone is dead), and event planning tools like multiple calendars per day and color-coded events so they're easier to keep track of.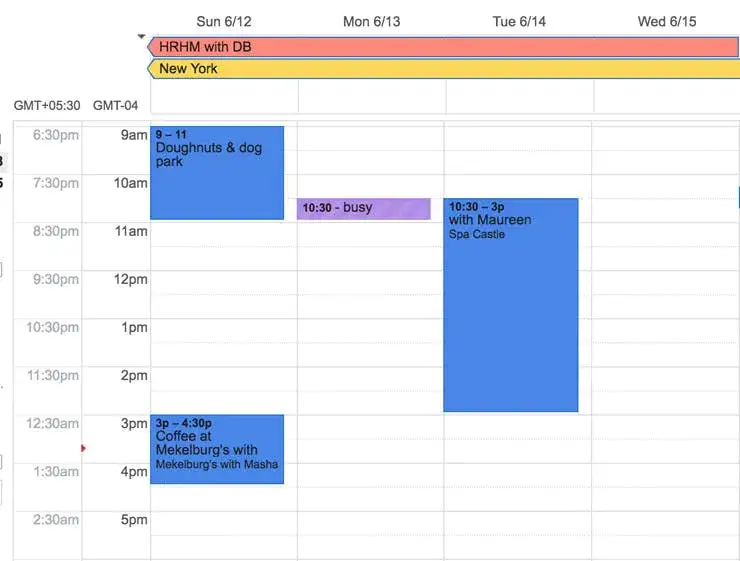 It also has an excellent interface with nice animations when creating new events or changing the date/time settings on your device. The only downside: there aren't many cool features like those found in other apps like Apple's iCalendar or Microsoft Outlook Calendar; however this shouldn't stop you from checking out Google Calendar.
Platforms: Mobile App, Tablet, and Web
Plans
Microsoft Outlook is a popular email, calendar and task management app for Windows, macOS and iOS. It's available for free, which makes it an ideal candidate when you're looking to organize meetings or events.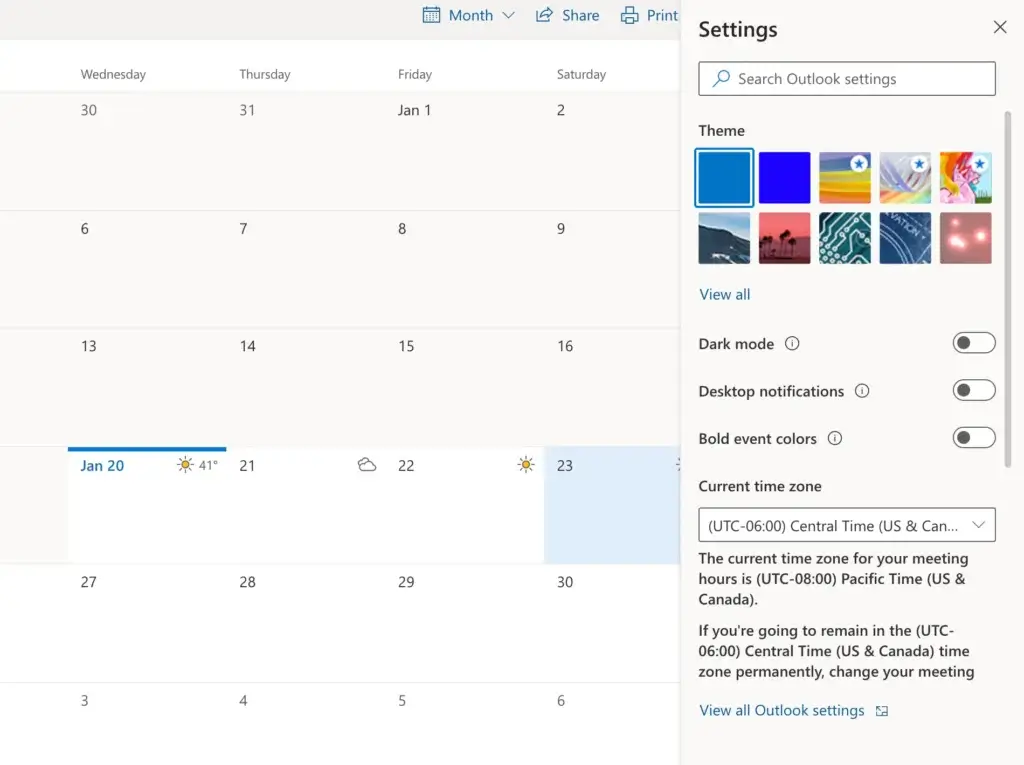 You can also use it to share calendars with other people so they don't have to worry about creating their own schedules while they're on vacation or out of town.
Platforms: Mobile App, Tablet, Watch, and Online
Plans
Free
Basic: $5 per member, per month
Pro: $12.50 per member, per month
Office 365: $20 per member, per month
Todoist is a task management app that allows you to create and share lists, collaborate on projects with other users, get notifications about your tasks and organize them in different ways. It's free for iOS, Android and Windows devices.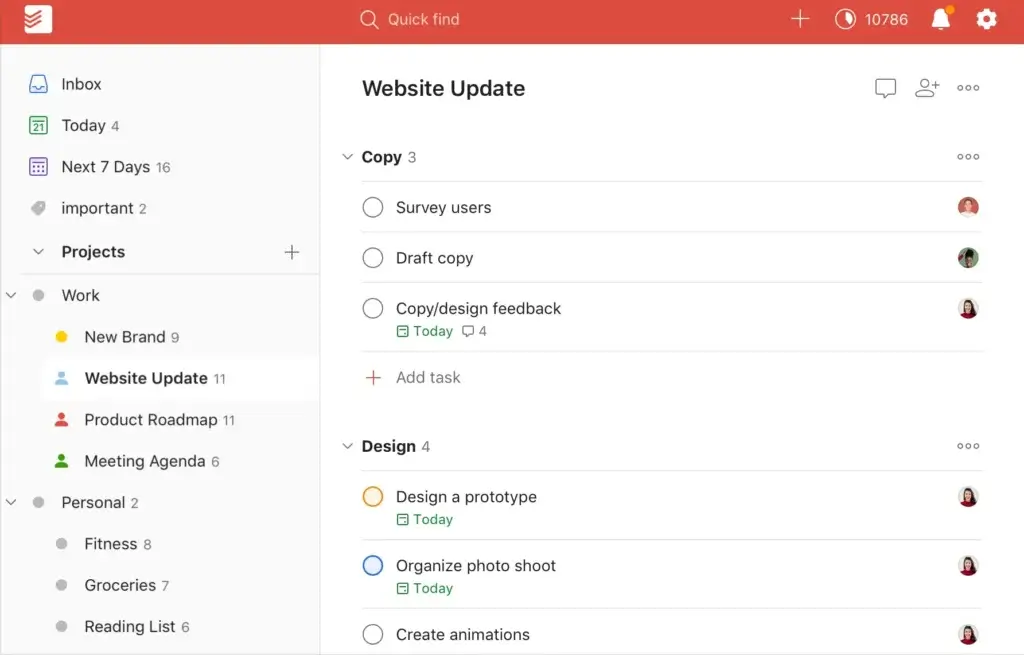 Todoist has a lot of features that make it one of the best online calendar apps out there:
You can create projects or subtasks within categories (e.g., "Work")
You can set due dates for each item on your list so it's easier to plan ahead
The app will suggest new items based on what's already checked off in your calendar
Platforms: Mobile App, Tablet, and Online
Plans
Basic: Free
Premium: $3 per member, per month
Business: $5 per member, per month
Any.do is a free app that can be used as an online calendar or task manager. You can add events, tasks and to-dos on the app, and set up reminders for each item in your list. You can also share your calendar with others so they know what's coming up next for you. Any.do has plenty of features that enable it to stand out from other similar apps on this list:
Due dates are automatically added when creating new tasks or events within Any.do; this helps keep track of deadlines as well as meeting them on time (or early).
It's possible to create recurring events–for example, weekly meetings with coworkers who happen every other Friday at noon–with the help of templates that make planning easier than ever before.
Platforms: Mobile App
Plans
Standard: Free
Premium: $5.99 per member, per month
6. Calendy
Calendy is a free online calendar app that helps you plan your life and stay organized. It's easy to use, but it also has advanced features for those looking for more flexibility or power.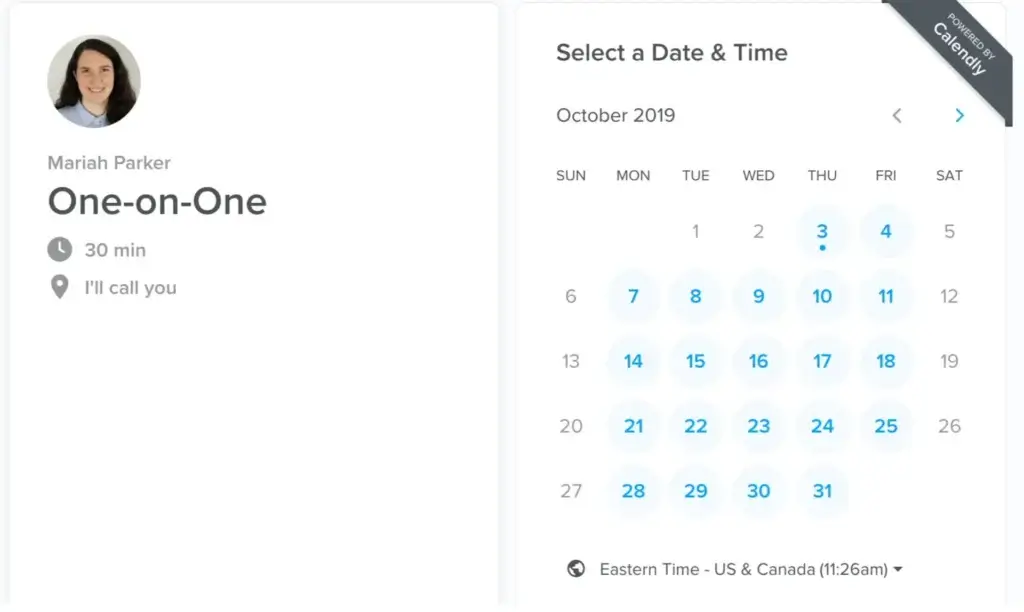 Calendy is available on iOS, Android and Windows phones. It works best with Google Calendar feeds because it syncs with them automatically (instructions here). If you don't have one of those types of accounts yet, then Calendy will create one for you when you sign up–or if not, they'll try again every two weeks until they find one that works well enough for you.
Platforms: Online, Mobile App
Plans
Basic: Free
Premium: $8 per member, per month
Pro: $12 per member, per month
Fellow.app is a free online calendar app that has a simple design, it's easy to use and it has a variety of features. It's ideal for small businesses who need something that can sync with their phone or tablet, as well as anyone looking for an easy way to organize their appointments.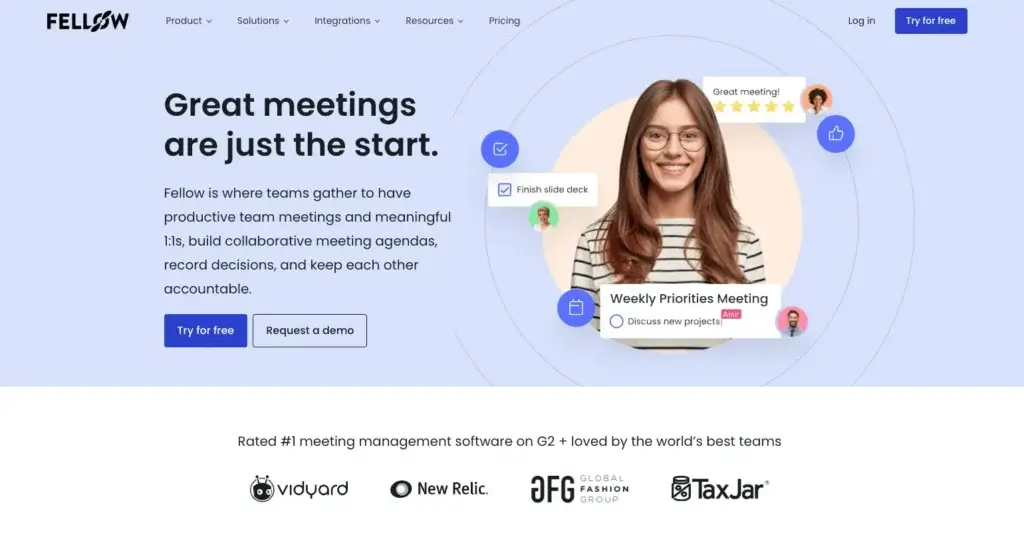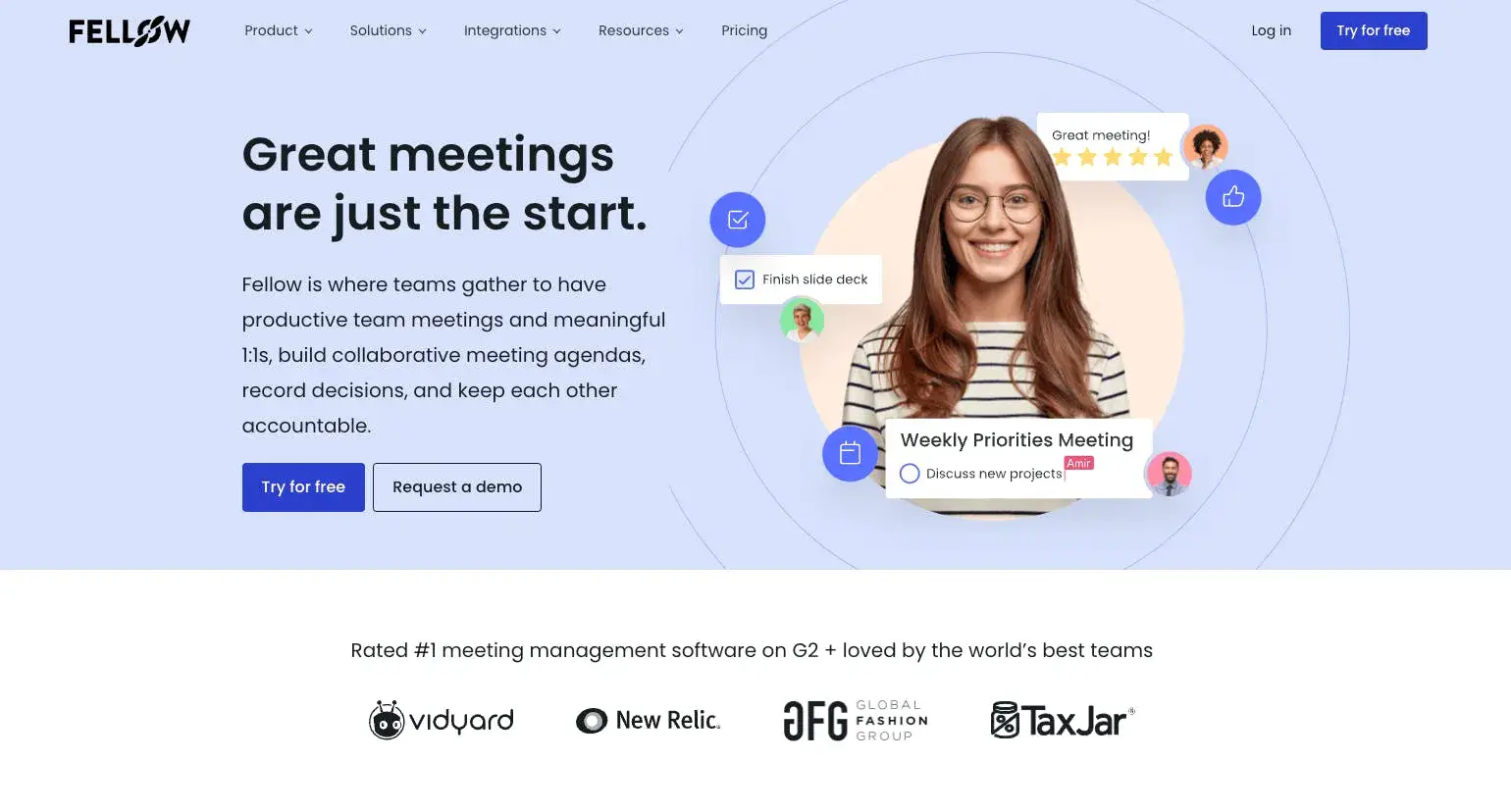 The app lets you share events with others in your network so they can all see them at once, create recurring events and set reminders about upcoming meetings or tasks on their calendars. You can also set up multiple accounts (for example if you want different people at different companies) which makes sharing information easier than ever.
Platforms: Web, App, Chrome Extension
Plans
Fellow is free for a maximum of 10 users

The Pro plan is $5 per member, per month, and custom-priced plans are also available
SavvyCal is a free online calendar app that helps you organize your life. It's not just another calendar app; it's really more of a lifestyle management tool that can help you plan ahead, track your schedule and stay on top of all the things that need to get done.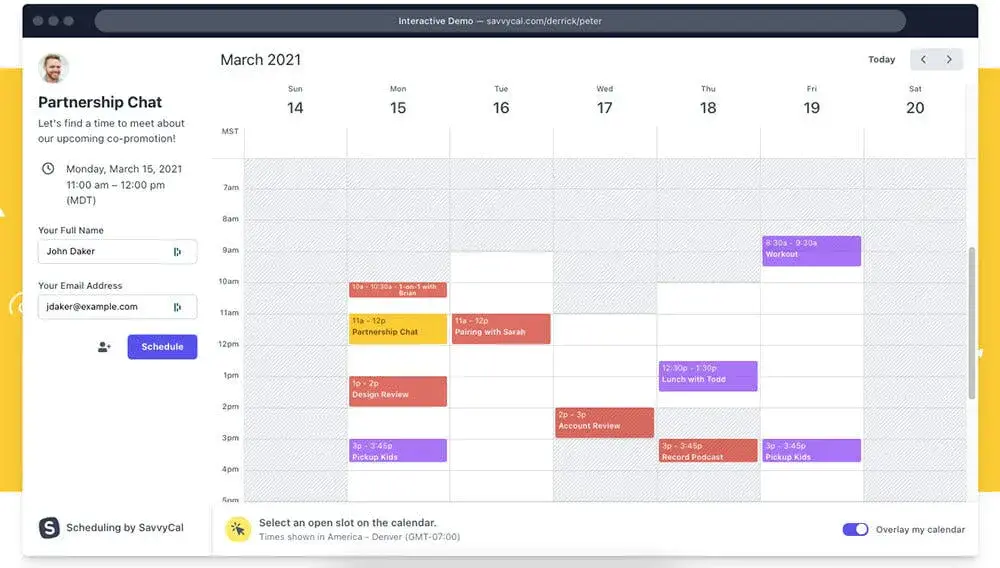 SavvyCal works as both a stand-alone desktop application or web app, so you can use it anywhere there's an internet connection–even if it means taking advantage of the convenience of mobile devices like smartphones and tablets.
Platforms: Online
Plans
The Basic Plan: $12 per member, per month
The Premium Plan: $20 per member, per month
9. Calendso
Calendso is a free online calendar app that helps you to manage your schedule, events and tasks. It is a great tool to help you plan your day and stay organized. Calendso has a beautiful design and easy to use interface.
Platforms: Online
Plans
Self-Hosted: $0
Hosted: $12 per member, per month
10. DigiCal
DigiCal is an app that helps you stay on top of your schedule and make it easy to organize appointments. It's free, but you can also opt for the paid version which costs $4.99 per month or $49 annually.
DigiCal comes in two versions: one for individuals who want to use their own calendar (the free version), and another for businesses that need a shared calendar solution (the paid version).
The free version allows users up to 1,000 appointments per month–which isn't much compared with some other apps out there–while the premium option provides up to 5 million appointments at no additional cost. And both versions sync across devices so that everyone in your household can benefit from them together; this makes it easier than ever before when trying new things or meeting new people.
Platforms: Mobile App
Plans
Basic: $0
Digi+: $4.99 per member, per month
11. Zoho Calendar
Zoho Calendar is a cloud-based calendar application that allows you to manage your calendars from anywhere, on any device. Zoho Calendar is free and easy to use. It can be used to schedule appointments, events and reminders.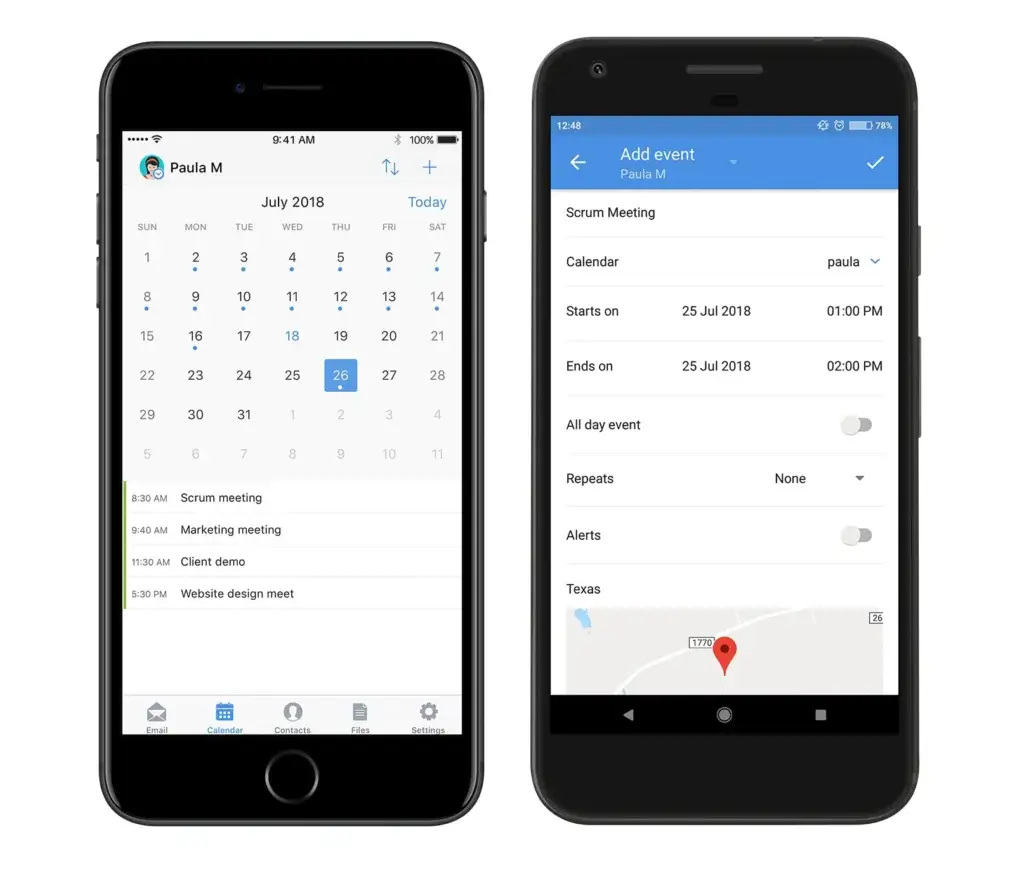 Platforms: Mobile App
Plans
Free
Standard: $3 per member, per month
Pro: $6 per member, per month
Enterprise: $10 per member, per month
Conclusion
It is so easy to use these calendars and appointment schedulers. With some of the free ones, you'll have to pay a monthly subscription fee to get access to all the features, but if you need it for only one person or two people then there are also some paid versions that offer unlimited access.
The best thing about these apps is how easy they are to use on your phone or computer and how much time they save by helping you organize everything into one place.